What do you like to do?
I ask that question to people and get so many different answers, i.e. hiking, fishing, hunting, stock car racing, slot car racing, basketball, painting, sewing, cooking, swimming, sleeping, watching my kids play sports, reading, etc.
Wouldn't it be great to take your favorite hobby and make money from it?
Lets pick a real world example – Fly fishing. What if you were to go to your local fly fishing store (I actually have one about 2 miles from my house – honest!) and introduce yourself to the manager as a fly fisherman photographer. It helps to have purchased equipment from the store to break the ice.
Offer to trade fly fishing photographs for their advertising and catalogs in return for trade or cash. You could trade photographs for the hottest new fly fishing rod and reel, or that collection of this years hottest flies, or new waders, or even that tackle box that you have had your eyes on for a coons age. Trading photography for products is as good as cash because you would have purchased that equipment anyway.
In the fly fishing example, you could offer so many different types of photographs. For example:
Early in the morning with the fog just lifting off of the river with the early morning sunlight glistening off of the fishing line as it trails behind the fisherman
What about capturing a rugged looking man's man sporting the latest clothing that they sell in the store that they can use for advertising
What about doing some macro photography focusing on some of the mini fishing flys that they sell within the store. Have the store blow those images up and display them to encourage customers to purchase the hottest new fly – a must have for the upcoming season
What about offering to go on a guided expedition with customers to photograph or video the event and have that as one of the benefits of the trip. Free fishing – what could be better than that?
The list of options is as long as your imagination and creativity. You would definitely want to shoot some images of Fly Fisherman and Fly Fishing so you could show them as samples of your work to jump start the discussion.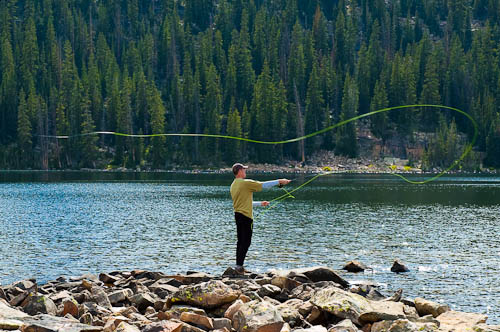 The early settlers in the United States functioned almost exclusively on a system of barter and trade to survive. Adopt the same approach and have fun linking your hobby to extra income (or that new reel that you have been trying to convince your wife that you absolutely have to have).
You could take those same images and upload them to your stock portfolio (check out istockphoto's fly fishing photographs), make a screensaver of them and offer it online, contact other fly fishing stores on the internet and ask if they need any great pictures for advertising purposes of fly fishing, enter the image in your local state fair photography contest, enter in other online photography contests, etc.
The world is there for your taking if you have good enough images…
Have a blast, but bring your camera!